It's strange to think that this whole trip came together one cold and rainy night in October. I was on the phone with Madi and I had gone out to sit in my car so I wouldn't wake up the rest of the house. We had started making plans for a summer road trip to Oregon, and somehow came up with a $3,000 budget (which we now realize is insane for an Oregon road trip), and Madi said, "we could go to Thailand for $3,000", and the next thing you know, we're getting typhoid and hepatitis a vaccines and flying 16+ hours across the world to the land of crowded streets and clear blue seas.
We landed in Phuket at 11:30 PM, after over 20 hours of travel time, two flights, and very little sleep. We hired a private mini bus to drive us to our hotel on Karon Beach for 1,400 baht, and enjoyed the hour long trip thanks to the free wifi on board.
Our first day in Phuket was full to the brim with fish pedicures, a breakfast buffet, our first swim in the sea, and a trip to the Wat Chalong Temple and the Big Buddha later in the afternoon.
At the Big Buddha, we donated 20 baht, which is less than a dollar, to be blessed by a Buddhist monk. We took off our shoes and knelt in front of him, our feet tucked behind us, while he dipped a little bundle of wooden sticks in some water and flicked it at our heads and hands while saying a blessing under his breath. He also tied a little bracelet on our wrists, and we've yet to take them off because it was such a neat experience.
On our second morning in Phuket, we decided to walk further away from the beach in hopes of finding some food carts. We ended up on a street called Patak Road after about 15-20 minutes of aimless wandering. We found a little stall that made fruit shakes, so I ordered a mango one, and Madi a pineapple, then we bought a 10 baht pork kebab off a Thai woman down the road, before finding a little restaurant on the side of the street where we both ordered the pad Thai.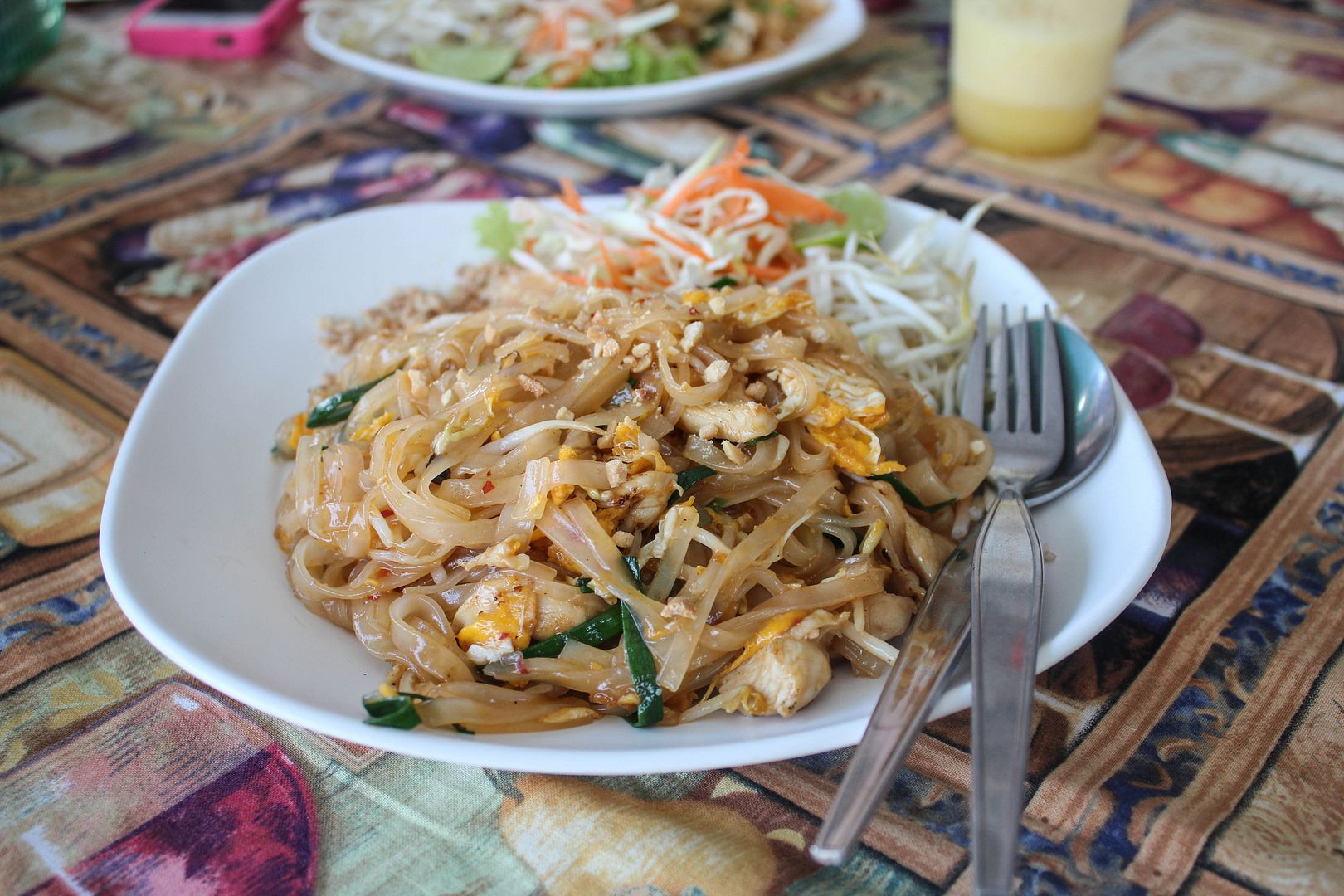 It was the beginning of Songkran that day, which is the Thai new year, and is celebrated by a country-wide water fight, so our walk back to our hotel was a wet one. After getting doused in water by various store owners and locals, we decided to join in on the fun by buying our own water guns and spraying people back.
Later that day, we had decided to go for a swim on our way back from lunch, and watched from the water as a giant storm rolled in. We walked back to the hotel in the pouring rain, not minding one bit since we were already soaked from Songkran and the sea.
We decided not to let the storm ruin our fun, and took our swimming to the rooftop pool, where we enjoyed watching the lightning in the distance.
We had originally planned to stay in Phuket for five nights, but by the third, realized that we were ready to move on to the next place, so by mid-morning on the 14th of April, we set off for Koh Lanta. Or so we thought.